The Best Football Live Streaming App for the free will of course be the dream of football fans. Moreover, this year the FIFA World Cup 2022 will be held in Qatar, download here.
Take it easy, technological developments have spoiled humans. Not to forget the worldwide football fans.
Various services in the form of apps based on Android and iOS are currently available both free and paid. There are also many apps for watching live streaming of football matches.
Apart from the Qatar 2022 World Cup, you can also watch broadcasts from various Football Leagues. Both national and international leagues. You can watch the Champions League, Premier League, LaLiga, Europa League, to the Indonesian League.
The following are 28 live-streaming apps to watch football for free, the World Cup and national leagues, and even international leagues. Please choose the one you like the most from the following apps.
Official FIFA World Cup Qatar 2022 Match Schedule International Use (PDF) Download Here
1. Vidio TV
This app is very well known. The Vidio TV app provides both free and premium services. In the premium features, various sports match channels are available.
Various sports matches are available on the Vidio TV app live. However, to get premium services, users have to spend IDR 29,000 per month.
The steps to enjoy live sports broadcasts on the Vidio TV app are as follows:
Open the Vidio TV app on your Android or iOS device, here you can see various kinds of shows that are currently airing in the app.
To search for live football match channels, go to the menu and select categories.
Select the Sports category, and here you can see a row of available football live-streaming channels.
Well, very easy and cool right? You can download this app directly from the PlayStore for Android or the AppStore for iOS. please click directly on the link below.
2. Vision+
No less cool than Vidio TV, Vision+ is also the coolest TV-watching app. This app is a development of MNC Mobile which only broadcasts MNC Group, such as RCTI, Global TV, MNC TV, and iNews TV only.
With the increase in the performance of this app, services for watching sports matches, such as football, can also be enjoyed from this app.
To enjoy watching football for free, you can download and install the Vision+ app. app link below.
3. RCTI+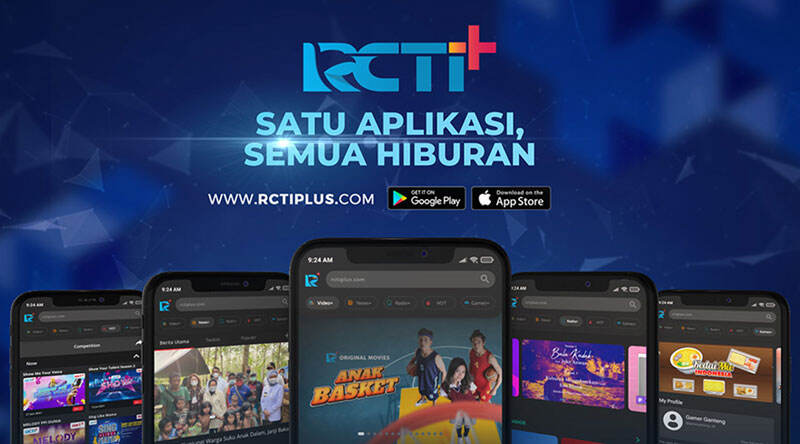 This app is a compatriot with Vision+ because it is an app developed by MNC. You can enjoy watching football matches broadcast on RCTI, MNC TV, GTV, and iNews here for free with the RCTI+ app.
Well, if you want to enjoy watching football on the various channels above with clear HD picture quality. So immediately download the RCTI+ app at the link below.
4. SuperSport
An app that presents and pampers sports fans, especially football. This app does not only broadcast live football matches.
However, this app also provides live other sports matches such as volleyball, basketball, golf, and so on.
If you are a sports fan or sport, you must install the SuperSport app. Because this app also provides notifications of match schedules, match results, and even match results predictions.
To download the SuperSport app, please click on the link below.
5. beIN Sport
This app is also highly recommended. Many sports matches especially football are also available in this app.
You can watch various league matches. Although most of the matches must be watched in premium mode, there are still some that are available for free.
In this app, there are also match highlights. To be able to enjoy football matches, please download and install the beIN Sport app, the link is below.
6. Super Soccer TV
From the name of the app, it is also clear that this app presents soccer matches, aka soccer. Well, football fans should not miss this opportunity.
The Super Soccer TV app has also collaborated with several foreign parties. Cool channels like MUTV, Chinese Super League, Garuda Select, Bundes League, UEFA Euro, and others.
Please download and enjoy live football broadcasts via Super Soccer TV below.
7. La Liga Sport TV
La Liga fans are definitely obliged to install the La Liga Sport TV app. Just install and enjoy La Liga matches at your fingertips.
You can enjoy highlights, news, live scores, to live streaming of matches, all of which are available in this app. Of course, you can easily enjoy your favorite football match.
The convenience of supporting your favorite football club in La Liga must have become entertainment in itself. Please download the La Liga Sport TV app at the link below.
8. Yalla Shoot
Yalla Shoot is one of the coolest apps for football fans. In addition, to live-streaming football events, this app is also suitable for MotoGP fans.
For lovers of soccer and motorcycle racing, Yalla Shoot must be installed on their cellphones. Well, for the download link for the app, please click on the link below.
9. Gratisoe TV
You can watch various kinds of TV broadcasts with the Gratisoe TV app. Live streaming of various sports matches including football is also presented in this app.
The quality of the images presented in this app is fairly immaculate. HD quality is enough to spoil the audience.
10. UseeTV GO
For IndiHome customers, you must be familiar with UseeTV. IndiHome subscribers can watch Champions League football matches using UseeTV Go.
Indeed, the UseeTV Go app is very similar to VidioTV. The difference lies in the additional Usee Sports and Fox Sports channels.
A slight weakness of the UseeTV app is that it cannot be controlled using a remote. So, don't forget to install the Set Rotation app and a mouse to navigate it.
No need to go into detail, here is the download link for the UseeTV GO app 2022.
12. Mobdro
The pleasure of watching live broadcasts from around the world can be felt with the Mobdro app. In addition, Mobdro also contains popular channels, such as ESPN, NFL TV, WWE TV, beIN Sports, and many more.
Various categories of TV broadcasts such as news, movies, music, games, animals, technology, and podcasts are presented in this one cool app.
Another advantage of this app is that it is free of ads. To enjoy this app, please download it below.
13. RedBoxTV
RedBoxTV provides more than 1000 channels of live broadcast matches from 15 countries. Live streaming of cool matches such as the Champions League is available in this app.
However, to use the RedBoxTV app we must also install the MX Player app.
Get RedBoxTV immediately to enjoy your favorite football broadcast. Click the link below to get RedBoxTV.
14. Mola TV
Connoisseurs of streaming football broadcasts are certainly no strangers to Mola TV. app with free football watching features up to 5 matches per week, including the Champions league.
If you want to enjoy more and more quality football match broadcasts, of course, there are premium features.
But for the league in Indonesia, Mola TV gives it free or free. So don't worry about watching domestic football.
To use this app, just install it on your android device. The app link is below.
15. FuboTV
This app is very popular in the United States (USA). A variety of sports broadcasts are available.
FuboTV app users can get access to famous sports channels like CBS Sports, NBA TV, FOX, NBC, beIn Sports Networks and etc.
If you are a fan of famous sports from the United States (USA) such as the NBA, NFL, and baseball, you should try the fuboTV app.
It seems this app is more likely to be used in America, so you have to use DNS or VPN to be able to use access to the fuboTV app.
The download link for the fuboTV app is at the link below.
16. Mivo
Mivo is one of the best football live-streaming apps. Just look at the rating on the Google Play Store. The Mivo app has a pretty high star.
In addition to local broadcasts in the country, Mivo also broadcasts various foreign TV channels. You won't miss any football matches in the Champions League, Premier League, and other leagues.
To install the Mivo TV app, please download it first at the following link.
17. Yacine TV APK
Various well-known international football leagues such as the Premier League, La Liga, the Champions League, Europa League, and Indonesian League tournaments are available on the Yacine TV app.
Yacine TV already supports DLNA and Chromecast, there are Live Event features, Search options, full-screen problem fixes, and support all Android devices.
Well, to use the Yacine TV app, please download the Yacine TV app first at the following link.
18. Bgibola APK
Channels that broadcast complete English, Spanish, Italian, German, and other Premier League matches are available on BGiBola. Besides being complete, BGiBola is also safe, because there is little risk of blocking.
In addition, the size of this app is also small, only about 4 MB. So, don't miss it, immediately download the BGiBola app at the following link.
19. Live Football TV HD
From the name of the app, it has also been shown that the Live Football TV HD app is an app that offers sports broadcasts, especially football.
Live Football TV HD also presents sports broadcasts such as football, basketball, and football in HD quality. This app also has a fairly good rating.
Well, please download or download the Live Football TV HD app at the link below.
20. Arena4Viewer
For football fans and blue continent (Europe) teams, Arena4Viewer is the right online soccer streaming app.
With a simple and uncomplicated display, the Arena4Viewer app is perfect for watching your favorite club matches.
The image quality presented by the Arena4Viewer app is also quite good and stable. Just install the app and enjoy your favorite club matches on Arena4Viewer.
You can find the download link for the Arena4Viewer app at the link below.
21. YouTube TV
YouTube TV is certainly one of the big powerhouses for live football TV streaming. With 100+ channels for the base plan and add-on sports packages, YouTube is another go-to choice as the live football streaming app.
It has all the popular leagues and tournaments under its roof and streams through broadcasters such as FS1 & 2, CBS Sports, ESPN, NBA TV, NBC Sports, NFL Network, MLB Network, NBA TV, etc.
Since Fox network and FS1 are available on YouTube, you can surely watch the 2022 FIFA World Cup with the $64.99/mo base plan (a newly registered account only costs $54.99 for the first 3 months).
One thing to notice is, some sports channels require an add-on package, which YouTube TV named Sport Plus, billed $10.99 per month. With this extra, you can enjoy NFL RedZone, beIN SPORTS, beIN SPORTS XTRA, FOX Soccer Plus, Stadium, SportsGrid, and more. See the full list at Google Help.
Besides a wide array of sports streams, there is also a plethora of news, lifestyle, entertainment, and family & kids content.
If you are deliberating between YouTube and Fubo, YouTube has TNT, the must-have channel that's missing in Fubo TV for basketball fans. Other merits are unlimited cloud DVR, and the support of 6 accounts to share between family members.
22. Hulu+Live TV
Hulu+Live TV is one of the best places to watch the 2022 FIFA World Cup live streaming and other sports. With Fox, FS1, NBCSN, Fox Sports, Fox Deportes, and 75+ channels coverage, sports fans can enjoy all the games of the Premier League, UEFA Champions League, MLS, and more.
Hulu+Live also offers unlimited DVR cloud recording storage. When you fail to catch up with the game in real-time, you can save it for leisure time. With the robust app on iOS and Android, it is easy to rustle up the game and cast it on TV to start streaming.
At $69.99/month, Hulu+Live TV also offers the Disney bundle with Disney+ and ESPN+, which could be a nice choice if you also love those originals and exclusive games.
Hulu+Live TV supports all mainstream devices: iPhone, Android, Roku, Chromecast, PC/Mac, Apple TV, smart TVs, Play Station 4/5, and even Nintendo Switch.
23. Sling TV
Sling TV is one of the most popular live football streaming apps in the US. As a live TV streaming service, it is divided into two plans, Sling Blue and Sling Orange.
Blue works best for entertainment and news, while the Orange Plan is best for sports. If you cannot forgo NFL and ESPN, Sling TV Orange+Blue is the best solution.
As for the FIFA football live stream, since the broadcasting rights belong to Fox and Telemundo this time, Sling TV Blue's plan has FOX channels covered (FOX, Fox News, FS1, etc).
Besides streaming content, Sling TV also contains cable TV channels from the US, including AMC, CNN, Cartoon Network, Discovery, FX, History, and so on.
You can install the Sling TV app from iOS App Store, and Google Store. For FireStick, get it from Amazon Store. The APK file also works on Roku, Mi box, and smart TVs.
Price: 50% discount first month, $35/mo for Orange or Blue, $50mo Orange+Blue.
24. DirectTV Stream
Besides the 2022 FIFA World Cup, if your main interests lie in regional sports, DirectTV stream is among the best list of live football streaming apps as well as for other sports.
Remember the TNT and TBS that's missing from FuboTV? DirectTV Stream has you covered.
If you also love news, TV shows, and entertainment, you will love the DirectTV stream's coverage on ABC, CBS, CNN, Comedy Central, ESPN, Food Network, NBC, and Fox.
The unlimited DVR cloud recording gives it a leg up against competitors, especially when the plan is set at a less competitive price. However, users can only save their favorite sports and shows for 90 days over the cloud.
As with other mainstream live TV apps, DirectTV stream is available on iOS, Android devices smart TVs, Roku, and so on.
Price: Starting at $69.99. Occasional deals are applicable.
25. Vidgo
Vidgo is one of the newest live football streaming apps for people trying to cut the cord. Since its launch in 2019, Vidgo has been widely acknowledged for streaming college sports.
You can enjoy America's premier college sports, and access Big Ten Network, the Pac-12 Network, SEC Network, and Longhorn Network. In fact, Vidgo is the only live sports streaming service that unlocks these four major NCAA channels.
For football and soccer fans, the Vidgo Plus and the Vidgo Premium plans grant you access to FOX, FS1, FS2, ESPN, EPSN Deportes, Stadium, etc. Therefore, you can watch FIFA World Cup 2022 with Vidgo.
This live football app also invests in bilingual TV, with its Video Mas package covering 45 VOD Spanish-language channels, from where you can watch Fox Deportes, Univision, and other entertainment.
However, if you are less interested in college sports, subscribing Vidgo merely for the FIFA World Cup 2022 may not be a bargain. Vidgo only offers 20 hours of Cloud DVR hours, while its competitors such as FuboTV allow for 1000 hours, and Hulu + Live TV even offers unlimited DVR hours.
Price: Plus $59.95/month, Premium $79.95/month, Vidgo Mas $39.95/month.
26. Peacock TV
Peacock is a great way to watch the FIFA world cup live stream for free. As we already know, the broadcasting rights of FIFA World Cup Qatar 2022 belong to FOX/FS1 (English) and Telemundo (Spanish) in the states, and Peacock is the answer for Telemundo streaming.
It is the only direct-to-customer streaming service in the Spanish language, for Hispanics and soccer fans in the U.S.
With the free account, you can enjoy the first 12 matches, and Peacock premium users can watch the rest of the 52 games. Besides all the games, Peacock also offers Copa Mundial de la FIFA 2022, pre-and post-game shows, condensed highlights, and other exclusives.
Peacock also covers a wide array of sports streaming, including Premier, League, Sunday Night Football, WWE, Rugby, Golf, Cycling, Horse Racing, and more.
Price: Free, $4.99 per month with ads, $9.99 per month with fewer ads.
27. Kayo Sports
Kayo Sports is an Australian-based live football streaming app. If you used to be a loyal customer of the grand Foxtel Now package, you will love Kayo Sports.
As this live Sports streaming app has access to all the same sports licenses that are available in Foxtel, which is part of News Corp's strategy to divide the content for targeted users. In this case, Kayo is highly focused on sports fans.
With Kayo, you are also granted the beIN Sports access, which means you can watch sports live and on-demand: La Liga, Serie A, Bundesliga and Ligue 1, EFL, Carabao Cup, MLS, SPFL, English Football, as well as EPL replays.
Besides the traditional live football streaming and replays, Kayo also introduce Kayo mini, a feature that streams a condensed version of sports highlights in 20 minutes. For those short on time, Kayo Mini helps you to catch up on games on the go.
This live football streaming app also has interactive statistics. The figures and stats offered in sophisticated ways will take you well beyond the game. You can better understand your favorite team with their key statistics.
Kayo is available on iOS, and Android devices, smart TVs such as Samsung TV (2017 and above), LG TV (2018 LG Smart WebOS TVs and above), Hisense TV (2019-2021 models), Apple TV (tvOS 13+), Android TV (v 7.0+), Telstra TV, Chromecast, Web, and PlayStation (PS4 and PS5).
Price: 7-day free trial, $25/mo (1 screen, SD/HD), $27.5/mo (2 screens, SD/HD), $35/mo (3 screens, SD/HD).
28. YipTV
YipTV joins the live football streaming market with personalized, low-cost TV content. To compete with other live TV streaming apps that have tons of channel lineups, YipTV is trying to win its customer with free channels, a lower subscription fee, and 100+ international channels.
With only an email and phone number, you can register YipTV with 17 free channels and for the first 7 days, you can also enjoy premium tier channels such as soccer-friendly TyC Sports, beIN Sports, Mi Gente, PX TV, Canal 52 MX, Alterna, Hola TV and so on.
YipTV also teams up with T-mobile to offer mobile access without counting again your monthly mobile data.
Other specialties are Spanish content, such as Mis Películas, Mi Gente TV, and El Financiero Bloomberg TV, some of which are typically not available by other streaming services.
The tradeoff is limited premium channels, some of the notable absences are ESPN, ESPN2, ESPN3, TBS, TNT, CNN, CNBC, BBC America, etc.
YipTV is available on iOS, Android, and the web. You can also cast the content from the app to smart TVs or via Google Chromecast devices. The premium account allows you to stream on 5 different devices simultaneously.
Price: Free for 17 channels. $49.99/Year or $14.99/Month. The add-on packages range from $7 to $12.
Those are some best live streaming football apps that you can choose from. Actually, there are other apps. However, these 28 apps seem to be very sufficient to enjoy your favorite club football match.